Council Spotlight
News about energy and natural resources in the Pacific Northwest

Big Potential for Energy Savings from Indoor Marijuana Cultivation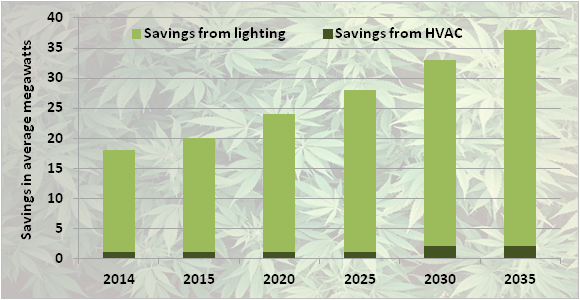 Growing marijuana indoors, now legal in Washington state, is an emerging use of electricity in the Pacific Northwest that could grow to the equivalent of a small city over the next 20 years, according to an analysis by the Council. Read more
More News

Comment on Two Seventh Power Plan Papers by October 31

The Council is inviting comments on two 7th Plan issue papers:
BPA, Idaho Sign Agreement to Benefit Wildlife and Habitat

The agreement for a 10-year mitigation program would resolve Idaho's share of the impacts of Federal Columbia River Power System hydropower dams on wildlife in southern Idaho.
Salmon Returns to the Columbia River Are Strong in 2014

Coho, fall Chinook, and sockeye salmon returned from the Pacific Ocean to the Columbia River in record or near-record numbers this year. The daily count of fall Chinook on September 8 at Bonneville Dam, 67,521 fish, set a single-day counting record at the dam, where counting began in 1938.
SAVE THE DATE: Efficiency Exchange April 21-23, 2015

Efficiency Exchange 2015 will be at the Oregon Convention Center in Portland. Energy efficiency staff from the region's utilities will come together for more connections, more networking and learning!