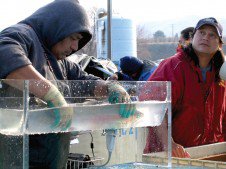 Two projects that aim to improve survival of steelhead and burbot the upper Columbia River Basin are moving ahead.
This month the Council approved continued funding of a project that proposes to recondition steelhead after they have spawned to take advantage of their unique life-history trait. Unlike other salmon, steelhead are capable of spawning a second time. Fish that do this are called kelts.
Yakama Nation fish biologists are leading the project, which involves capturing steelhead after they spawn the first time, holding them for six to 10 months — approximating a return to the ocean — releasing them to spawn a second time, and then monitoring their contribution to the abundance of the naturally spawning stock
Meanwhile in Lake Roosevelt, the reservoir behind Grand Coulee Dam, the Colville Confederated Tribes are working to gain a better understanding of the burbot population, which is thought to be small but sustainable. Burbot are a freshwater variety of cod. The project involves monitoring the status of burbot to better understand when and where to allow anglers to catch the fish.