Early Warning System
The summer of 2015 was brutal for cold-water fish throughout the Columbia River Basin. This spring the agencies and tribes that manage fish and fisheries are talking about how to respond when -- not if -- rivers rise to lethal levels again.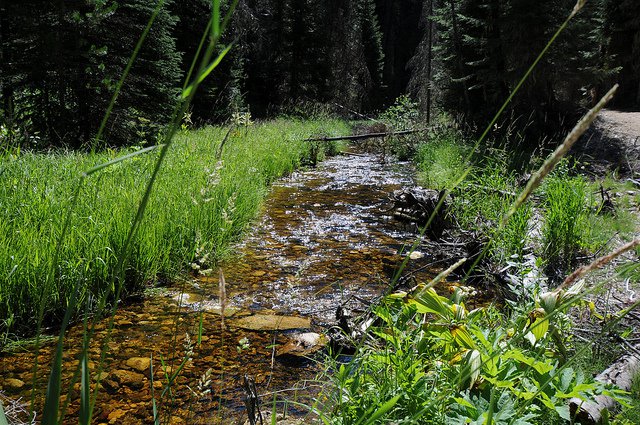 Unprecedented high water temperatures in the Columbia River Basin last summer are spurring unprecedented cooperation this year among the federal and state agencies, and tribes, that manage rivers, dams, and the fish whose survival is affected.
In response to lethally warm water that contributed to the deaths of salmon, sturgeon and probably other fish year last year, an effort is underway this year to improve data-sharing and accelerate decision-making – in essence, create an early-warning system -- if the summer of 2016 is a repeat of conditions in 2015.
And it might be.
Water temperature monitoring shows that the trend this year is similar to the trend last year – above average and rising – and that the ocean environment is increasingly unfavorable for cold-water species like salmon and steelhead. Scientists have documented that the so-called "blob" of warm water in the north Pacific has moved eastward into the near-shore area off the Northwest coast.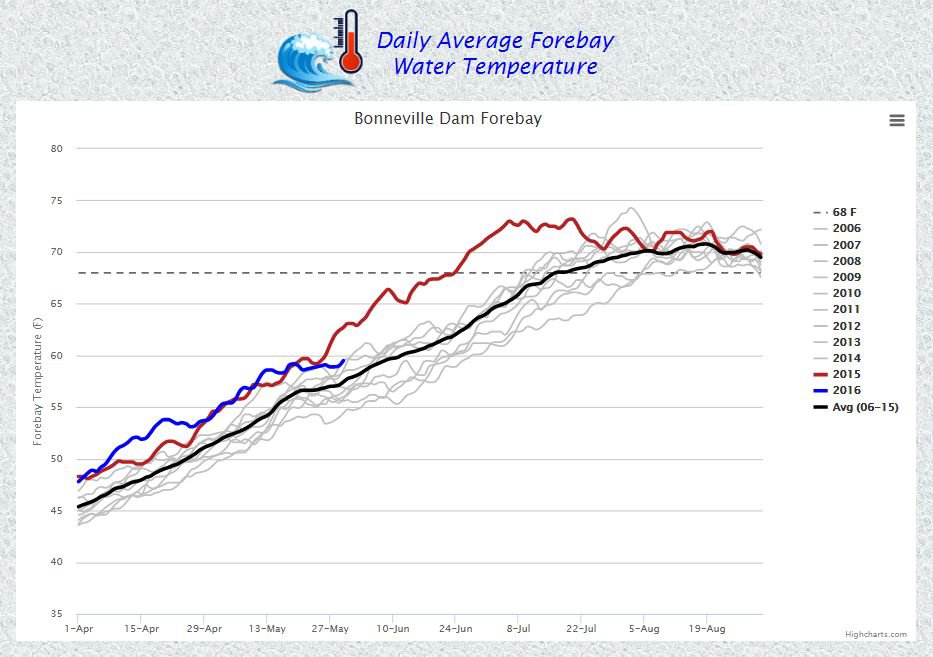 In this figure from the Fish Passage Center (www.fpc.org), the red (2015) and blue (2016) river temperatures are well above the 10-year average through May 30. The dotted line is 68 degrees.
Last week more than 30 representatives of fish and dam management entities met via conference call to talk about how to organize and be ready if there is another temperature emergency. After two hours of discussion these short-term and longer-term topic areas emerged for further discussion:
Consider setting a water temperature trigger for emergency actions, and set it below the lethal limit of 68 degrees so that fish aren't on the edge of catastrophe before options are discussed. Such a system is in place in the Klamath River Basin in southern Oregon and Northwestern California, and it works well.
Improve coordination and communication through existing committees that oversee river conditions and advise on fish-passage actions, such as the Fish Passage Advisory Committee
Document the locations of cool-water refuges where migrating fish such as adult salmon and steelhead can reside temporarily when water temperatures are high
Positon mobile laboratories along river corridors to be able to respond quickly to assess dead fish and determine causes of death and the effects of temperature
Close fisheries and reduce irrigation withdrawals in tributaries when conditions are lethal in order to protect fish and keep cool water in streams
Longer term, overlay climate-change models with the location of fish kills to improve the ability to forecast where and how often low flows and high temperatures might affect fish, then develop place-specific mitigation plans
Conduct additional temperature monitoring in rivers and in fish ladders
The group plans to meet again to discuss how to further improve communication and coordination among the many entities and data sources.