Help for Lamprey
Three actions, funded with cost savings, aim to improve conditions for Pacific lamprey.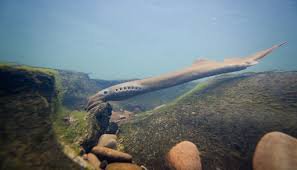 Using nearly a quarter million dollars of cost savings from other fish and wildlife projects, three actions in an important effort to improve populations of Pacific Lamprey were approved this week by the Northwest Power and Conservation Council and recommended to the Bonneville Power Administration for funding.
The funding was derived from existing projects in the Council's Columbia River Basin Fish and Wildlife Program and identified by a cost-savings committee that included representatives of the Council and Bonneville. The money came from projects that had decreasing expenditures or were closing out because they had been completed. Funding totals $248,204 for Fiscal Year 2018, which ends on September 30.  In a letter dated October 11, 2018, Bonneville committed to fully fund the lamprey work through 2022.
The three actions are part of a larger project to improve conditions for lamprey, a native, anadromous fish that is culturally important to Columbia River Indian tribes. One is to install wetted walls at Prosser Dam on the Yakima River to help lamprey pass the dam. Fish ladders for salmon and steelhead are difficult for lamprey because of the swift current; the wetted wall gives them the opportunity to climb at their own pace and not be swept back downriver. The Yakama Nation is the project sponsor.
The second action, sponsored by the Nez Perce Tribe, will improve facilities for trapping lamprey in the lower Columbia River for transport to areas above dams on the Snake River. Trapping and hauling lamprey is a means of helping to reestablish populations upriver. The lamprey would be released at sites in the Clearwater, Salmon, and Grande Ronde rivers, and in Asotin Creek.
The third action is part of a larger effort to improve habitat in the South Fork McKenzie River in the Willamette River Basin, where the construction of Cougar Dam degraded habitat and altered natural river processes, affecting the spawning and rearing environment for lamprey and other fish species.
All three actions were vetted by a team of lamprey experts representing fish and wildlife agencies and Indian tribes and are consistent with the multi-state, 2012 Conservation Agreement for Pacific Lamprey.