Independent Scientists Highlight Exemplary Fish and Wildlife Projects in the Basin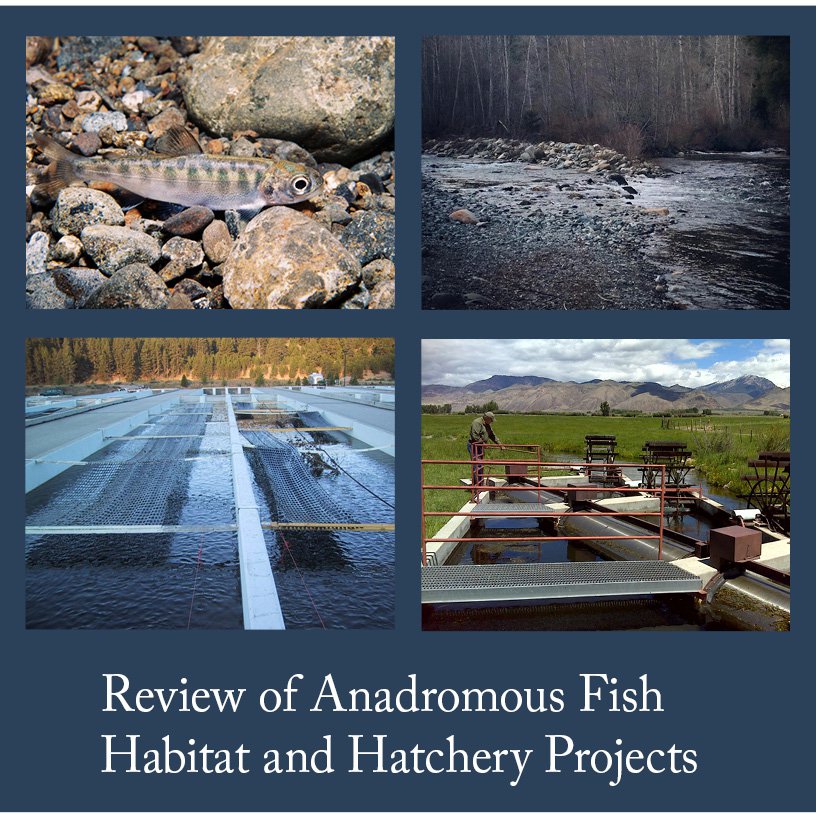 Good things are happening to help anadromous fish in the Columbia River Basin, according to a recent report by the Independent Scientific Review Panel. Stan Gregory, ISRP Chair, and Richard Carmichael, ISRP member, shared that numerous projects are underway that demonstrate impressive progress to anadromous fish management and recovery.
This past year, the ISRP completed its review of the Council's Columbia River Basin Fish and Wildlife Program, evaluating 122 anadromous fish habitat and hatchery projects. The projects concentrate on Chinook, coho, sockeye, steelhead, chum, and cutthroat. This major endeavor produced a 650-page report, which the ISRP summarized at the February Council meeting.
The Nuts and Bolts of Review
Project reviews are integral to the program. Since 2016, the ISRP has reviewed projects in four categories: 29 wildlife projects, 48 mainstem and program support projects, and 44 resident fish and sturgeon projects. The anadromous fish habitat and hatchery projects were the final group of this review cycle.
Consistent with provisions in the 1980 Northwest Power Act, the ISRP takes a close look at these projects to ensure that they:
are based on sound scientific principles
benefit fish and wildlife
have clearly defined objectives and outcomes
have provisions for monitoring and evaluation of results
Of the 122 project proposals reviewed, 48 met scientific criteria, 59 met scientific criteria with conditions, 12 weren't applicable, two were pending, and one didn't meet criteria.
Gregory shared that more than half of the project proposals came from the upper portion of the basin. A total of 69 projects focused on anadromous fish habitat and restoration, 34 on artificial propagation and hatchery monitoring and evaluation, and 21 on monitoring and evaluation.
Because it was challenging to compile the achievements of all the exemplary projects, Gregory and Carmichael highlighted a handful from the different categories:
Artificial Propagation
 
Steelhead Kelt Reconditioning and Reproductive Success – Columbia River Inter-Tribal Fish Commission
The process entails collecting outmigrating kelts (post-spawning adults) in the spring, holding and feeding them until early October, and then releasing them into the stream where they were collected in time for the upriver steelhead run. Under way since 2000, the project has developed successful strategies for collection through release and spawning. This program is ready to implement basinwide after building additional production facilities.
Habitat Protection and Restoration
Wind River Watershed Restoration – U.S. Forest Service, Underwood Conservation District, Washington Department of Fish and Wildlife, and U.S. Geological Survey
The Wind River Watershed Project is a collaborative effort to recover Wind River wild steelhead. With funding from the Bonneville Power Administration, the project partners monitor and research steelhead populations to identify habitat factors limiting population growth and restore degraded habitats and watershed processes. 
Umatilla Anadromous Fish Habitat – Confederated Tribes of the Umatilla Indian Reservation
This project aims to protect and restore watershed processes to provide sustainable and healthy habitats for first foods species. It's notable for integrating traditional ecological knowledge and western science approaches, guided by holistic River Vision, Upland Vision, and First Foods strategies. The project has restored access to 187 miles of blocked streams, reconnected 15 miles of floodplain, and removed 4 miles of levee. Team members put in 3,000 pieces of wood restoration on 7,000 acres the tribes acquired for protection.
Monitoring and Evaluation
The John Day River Salmonid Monitoring Project – Oregon Department of Fish and Wildlife
 
Columbia River Basin managers have identified the John Day River subbasin spring Chinook and summer steelhead populations as index populations for assessing the effects of alternative future management actions in the Columbia River Basin. It uses a coordinated approach to monitor and evaluate the status and trends in these anadromous salmonid populations and their habitats. This project even survived losing BPA funding, and project managers obtained alternative funding to continue population and habitat monitoring for Chinook salmon.
Demonstrating Project Excellence
"Over the last decade, we've seen a lot of advancements in approaches and methods and analytic techniques," Carmichael said. He added that these exemplary projects had shown sound data management, and they have project adjustment and higher adaptive management processes. A number have extensive outreach and education with a strong publication history, and some have strong youth education programs.
Gregory concluded the presentation by saying, "Sometimes I get the feeling that all we do is bring bad news, and people don't like to get our reviews — so it's nice to point out the exemplary projects and successes we see in the basin.
"It's nice to bring good news."