The Future of Offshore Wind Development
Despite challenges, offshore wind could bring substantial benefits to the region
With an ever-growing need to decarbonize the grid while providing reliable and affordable generation, offshore wind is receiving significant industry attention. Driven by seasonally consistent wind and abundant development space, offshore wind has the potential to enhance reliability and resiliency across the region.
Globally, there are over 100 offshore wind farms. However, the unique challenge for the United States West Coast is the steep slope of the ocean floor, resulting in very deep waters not suitable for conventional, fixed bottom platforms. This means that the wind turbines designed for Oregon, Washington, and California will need to be floating.
Fixed bottom turbines are more commonly used but are only practical in depths up to 60 meters since a piling must be driven into the ocean floor. Above 60 meters, floating platforms can enable deeper waters since the turbine floats on the surface while being anchored to the ocean floor with mooring lines.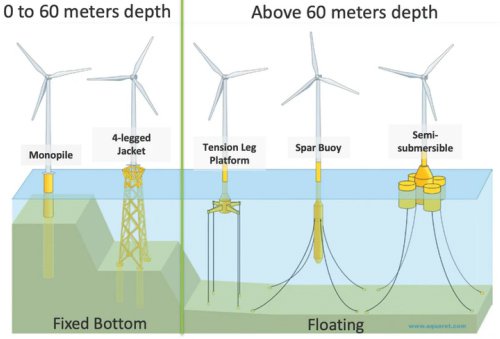 However, floating wind platforms remain an emerging technology over technical uncertainties of design and implementation, in addition to research gaps on environmental impacts on marine life and birds.
Given the Council's interest in evaluating the impact of emerging technologies on projected resource buildouts and adequacy, it is an ideal time to engage with industry stakeholders to better understand the regional timeline, benefits, costs, limitations, and future direction of offshore wind. In an update on offshore wind presented at the Council's August power committee, staff shared findings from industry reports and stakeholder interviews.
The big picture? The first offshore wind farm in the Pacific Northwest is expected to go online in 2032, starting with five years of permitting and design plans, followed by 5 years of construction and implementation. For greater details, revisit ODOE's public meeting about offshore wind (Public Meeting 1, 2).
The Bureau of Oceanic Energy Management, through state-specific BOEM taskforces, is responsible for determining potential offshore wind development areas and leases, known as call areas. In Oregon, two current call areas are identified along the southern coast in Coos Bay and Brookings. Though BOEM estimates 20 gigawatts offshore wind potential for Oregon, these two call areas represent 14 GW potential, but only 3 GW are currently discussed for development in Coos Bay and Brooking, which will be leased in late 2023. Washington does not have a BOEM taskforce and is currently considering two unsolicited requests.
The biggest limitation? Substantial infrastructure upgrades are necessary to achieve any offshore project. First, there is no existing port along the West Coast that can support offshore wind logistics, including wharf area for assembly, dry and wet storage, and large enough cranes. Second, interconnection and transmission system upgrades are key, especially for future offshore projects larger than 3 GW nameplate capacity, as grid congestion will be the biggest driver for offshore wind curtailment. Current analysis suggests existing transmission can support 2.6 GW throughout Oregon, but only 1.1 GW along the southern coast, but this still requires system upgrades to enable integration. The industry is actively researching transmission needs, so the field will advance over time. (See NREL report for additional details).
There is caution in the industry around cost estimates since they currently exclude the necessary port and transmission upgrades. Therefore, it's possible that the capital expenditure, operations, and levelized cost of energy will remain high longer than expected (see slides and reports for estimations). A good comparison is California's experience, given its similar prospects and earlier progress (NREL – OR, NREL- CA).
Despite the limitations, offshore wind is expected to bring substantial benefits to the region. For example, research has found offshore wind in Oregon to complement existing renewable resources, such as solar photo voltaic in southern Oregon in the winter; Columbia Gorge wind in the summer; and hydropower flexibility in late summer. Introducing offshore wind may also reduce the pressure on the East-West transmission corridor, freeing transmission capacity while providing reliable supply to the coast. See PNNL and NREL reports for deeper analysis.
The future of offshore wind remains to be seen, but its potential contribution to adequacy and resiliency should not be overlooked. The role of market dynamics, and whether offshore wind generation will be used locally or be exported outside the region, will be determined by market cooperation and existing transmission limitations. What is clear? A holistic, systems perspective is needed to evaluate offshore wind as we plan to diversify the region's resources.
To follow these developments, check back at this site, or sign up for email notifications below.