Ocean Conditions Are Challenging Salmon, Emphasizing Need for Management Actions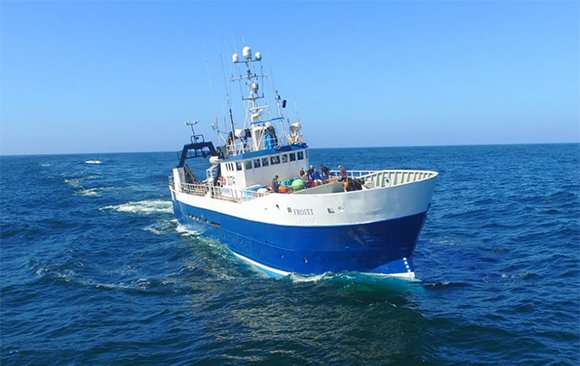 Despite good ocean conditions in the recent years, the trend for the future is not encouraging, according to Supervisory Research Fish Biologist Brian Burke, National Oceanic and Atmospheric Administration. "Overall, things are going to get hotter, which is not good news for salmon."
Burke presented research findings on Chinook and coho returns to the Columbia River based on indicators of ocean conditions at the Council's March meeting.
The work addresses several measures in the Council's Columbia River Basin Fish and Wildlife Program that support monitoring ocean conditions and in-river restoration actions to implement the best management approach for salmonid survival given changing ocean conditions.
When salmon first enter the ocean, the conditions they encounter there largely determine population trends. It's a critical phase in the life cycle of fish when their survival is the lowest of all life stages. "What happens in the ocean doesn't stay in the ocean," noted Burke.
The sobering reality is that, despite a favorable marine environment in some years, like 2021, overall conditions are in decline, and Northeast Pacific marine heatwaves are increasing.
"Good years are an anomaly now and the trend is for future poor conditions, but there are management actions we can take," said Burke.
Management actions in both freshwater and in the marine environment can help mitigate this decline: improving river and estuary habitat to strengthen salmon in other life stages; improving river conditions to influence fish survival in the ocean; timing the release of hatchery fish; and efforts to address predation, for example.
Historically, an important forecast indicator has been the Pacific Decadal Oscillation, the long-term ocean fluctuation of the Pacific Ocean that waxes and wanes about every 20 to 30 years. Because of climate change, the PDO is shifting, becoming less reliable as a correlation between the PDO pattern and catch. "The PDO doesn't mean much anymore," said Burke.
As for now, La Niña is officially over, and it's uncertain what will come next: A neutral climate pattern or El Niño. La Niña tends to increase salmon survival and El Niño tends to bring lower survival.
So, what we can expect this summer? "It's concerning, because forecast models show a much warmer Northern hemisphere," said Burke. "While the last couple of years looked good, the 2022 local physical metrics aren't encouraging."
Looking into the future, a warming ocean has so many ramifications for the ecosystem, enabling different species to flourish, affecting the prey/predator equation, and affecting food sources, for example.
Burke noted that the effects will not be uniform across species.
"It depends on where they are in the ocean—their experiences can be completely different. Sockeye tend to go along the coast where it's cooler; steelhead don't go along the coast. Every stock is doing something different," explained Burke. "All fish go to different places in the ocean."
In addition to this presentation, critical ocean research and monitoring topics will be discussed at the next Ocean and Plume Science and Management Forum, which is anticipated for fall 2023.
Learn More